Queue Management System Dubai
Long queues can be frustrating for customers, but if managed well, they can be an opportunity to improve customer satisfaction and profitability. If you are on the lookout for a queue management system in Dubai that would fit your peculiar requirement, then the search ends here. As a visitor management system, Queaxis® Hybrid™ is a branch level solution that can work in all kinds of environments regardless of the nature of workflow. It can also serve as a medium of advertising where clients would be able to cross-sell through digital signage, making the waiting area a more welcoming environment for their customers.
Queaxis® follows the basic principle behind queue management systems, which is to quantify queue demand at any given time and inform staff in real-time. It is an ideal solution where service demands require flexibility and real-time management. The queue system revolves around organizing, engaging, and decreasing the waiting time. Whether it is to manage a single branch or a distributed enterprise network, the queue management system will help to provide an enhanced experience to customers and employees at retail stores, banks, hospitals, and government offices. To learn more about Queaxis® queue management system, or to place an inquiry, get in touch with our team today!
ARRIVAL
Ticket Dispenser
Our ticket dispensing machine will help you to solve the never-ending challenge of managing customers and visitors at the point of arrival. Not only can it facilitate an environment where customers would feel more welcome, but it can also smoothen the process of entry through proper ticketing.
WAITING
Digital Signage
Take advantage of customer waiting time by providing them with valuable queue information along with targeted messages. The web-based digital signage interface is powered with PixlView which supports live TV and HTML content.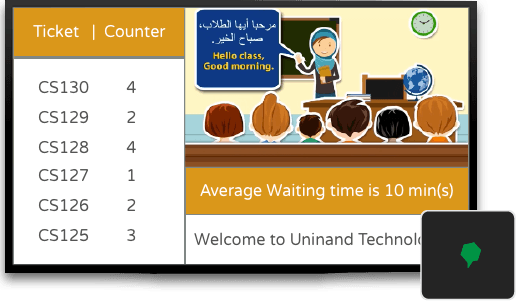 SERVING
Calling Unit
Customer Service Agents can call customers through the calling unit which works on PCs, tablets, and phones and is available as both hardware and software. Layouts can be customized according to the needs of the client.